Island Tours
Our fully equipped Dive shop, consists of certified instructors, dive masters, captains and guides. We offer many different local reef dives from the North to the South of the island. We provide different levels of Dive Certifications, Resort Courses, Advance, Rescue as well as other specialties. Equipment Rental is available. All prices include government tax Local Dives Include Esmeralda, Hol Chan, M&M's Cavern, Love Tunnels, Renegade Canyon, Sand Point Canyon, El Pescador Caverns, and many more. Hol Chan Dive A local tour which includes a one tank dive and a snorkel stop. This is a great tour for families or groups that include both divers and snorkelers. A $10 US park fee is not included in the price since this price goes directly to the Marine Reserve to help protect the animals and reef inside this area. Night Dive Leaves just before the sun sets and takes place at the Hol Chan Marine Reverve. This is a great way to see the nocturnal animals on the reef. Blue Hole Includes- Breakfast, lunch, snacks, and water. The blue hole has three dive sites- The Blue Hole, The Aquarium, Lighthouse Reef For lunch you will stop at Half Moon Caye and have a chance to see the Boobie Bird Santuary. Turneffe Atolls Includes- Breakfast, Lunch, snacks, and water The Three dive sites are North Turneffe, South Turneffe, and The Elbow Open Water Courses Students will be provided with a Padi Certified Dive Instructor and Padi materials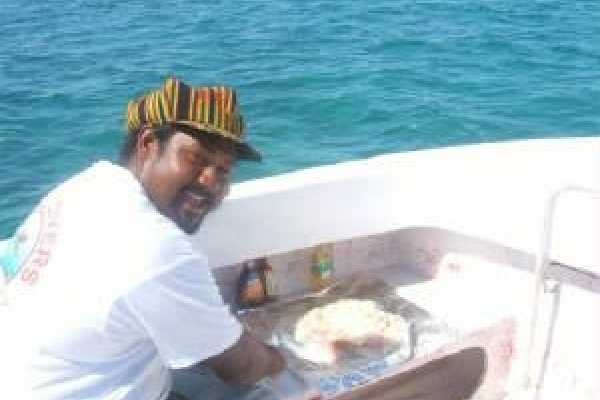 Reef Fishing On this adventure you can caught some small local fish such as snappers and groupers. This tour is for the relaxed fisherman. Deep Sea Fishing This adventure is for the serious fisherman. If your looking to catch a big fish while on vacation then this is your opportunity. The fishing boat is fully equiped with US quality fishing gear. For Snorkel and Fishing Combinations look under Snorkel tours Includes- Beach BBQ with fishing and snorkeling, and/or Bacalar Chico Snorkel and Fishing trip Prices include government tax
All prices include government tax Hol Chan/ Shark Ray Alley This site is a marine reserve where you will see a lot of marine life and our coral reef. This is one of our guests favorite. It is great for families and also for groups that want to snorkel and dive because this site offers both. Price does not include $10US per person park fee. Mexico Rocks For those families looking for a less expensive trip this is for you. Located on the northern part of San Pedro this site offers a nice relaxing snorkel as you see the beautiful coral formations and young juvenile fish. Beach BBQ This is a snorkel and fishing tour. This trip provides 1-2 snorkel stops and opportunity to catch your own lunch/ dinner. After the water activities are completed head to the beach or back to your place where your guide will cook a deliciuos BBQ meal for you which includes the the fish you caught and some ceviche. A great family trip! One of our most popular trips. Caye Caulker Day Trip Visit our sister island for the day. This trip includes 1- 2 snorkel stops and a stop over for lunch in Caye Caulker. Lunch is not included in price. Bacalar Chico Marine Reserve Head North to the end of the island to do some snorkeling and fishing. Have a peaceful day swimming with the reefs great marine life.
About Us
Coral Divers has been in business since 2007. We are a locally owned business who's owner has been working in the tourism industry for 15 years. We are located 4.5 miles North of town at Sun Divers Resort along the beautiful and largest Barrier Reef in the Western Hemisphere.
Coral Divers offer small group tours that provide an alternative to the crowded boat tours you will find in town. We specialize in creating an experience that you will remember for years to come. We will pick you up at your resort and offer a wide variety of tours and packages. You can review prices and availability for out tours and book your tours directly though our website.
Mainland Tours
Offering relaxing tours in Belize
Owner- Rajini Matura (Genie)
Phone- 501-664-2001
Email: bigbadgeni@yahoo.com
Find an Activity / Explore Our Activities